The other "Mathematical Games" spin-offs (page 3)
&nbsp &nbsp
&nbsp &nbsp
---
In addition to the original fifteen spin-off books collecting the "Mathematical Games" columns from Scientific American—with their various editions, cover art and titles—there are five other related items of note.
Almost half a century after the first columns appeared, two compilation books were issued, with material from the "Mathematical Games" columns suitably updated and reorganized into chapters and sections by topic.
The Colossal Book of Mathematics: Classic Puzzles, Paradoxes, and Problems (W. W. Norton, 2001, 12 + 724 pages) was compiled by Martin himself. In the introduction, in reference to his Scientific American years, he wrote, "Robert Weil, my editor at W. W. Norton, suggested that I select 50 of what I consider my 'best' columns, mainly in the sense of arousing the greatest reader response, to make this hefty, and in terms of my career, definitive book you now hold." The 50 chapters are spread across twelve sections, such as, "Arithmetic and Algebra," "Topology," "Probability," "Infinity," "Games and Decision Theory," and so on.
The Colossal Book of Short Puzzles and Problems (W. W. Norton, 2005, 16 + 494 pages) was compiled by Martin's bibliographer and biographer, computer scientist Dana Richards. In seventeen chapters spread over four sections (Combinatorial & Numerical Problems, Geometric Puzzles, Algorithmic Puzzles & Games, and Other Puzzles), it gathers together the shorter mostly mathematical brainteasers that Martin included his Scientific American columns. There is also an Appendix of new material called "Twelve More Brain Teasers."
---
&nbsp &nbsp
In 2006, the Mathematical Association of America issued a searchable CD-Rom Martin Gardner's Mathematical Games: The Entire Collection of His Scientific American Columns, which came with an informative 32-page booklet featuring an interview with Martin. This CD-rom has PDFs of all 15 spin-off books, and is a great resource that makes it very easy, for example, to find any mention of pentominoes, or Sol Golomb, Möbius bands, origami, or magician Bob Hummer.
---
There are two "decks of cards" available from Pomegranate, each consisting of 48 cards, with a puzzle or brainteaser selected from "Mathematical Games" columns on one side, and its solution on the back.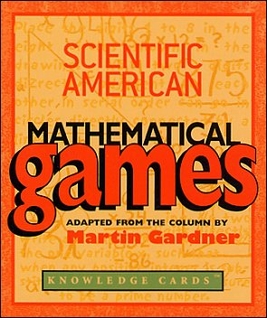 &nbsp &nbsp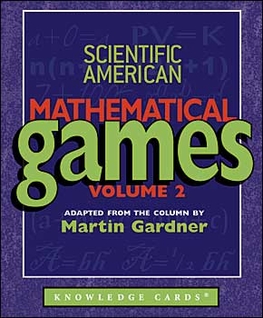 ---
Home
/
Scripta Mathematica
/
Mathematics, Magic and Mystery
/
Puzzle Books
/
Logic
/
Articles
/
Calculus Made Easy
/
Pleasure
/
Math Legacy