Martin Gardner's Magic Output
Martin's magical interests were focussed on table and close-up magic, and from the 1930s on, he published a lot of original magic. He is well known for his innovative tapping and spelling effects, with and without cards, and was most proud of his
Wink Change
.
There is a good brief bio and listing of some of his primary magic publications at Genii Magicpedia. Denis Behr has an accounting of many of Martin's published magic at his excellent conjuring archive (note that it can be ordered by title, source, year, etc.).
There is also a brief and hardly accurate biography of magical Martin at MagicNook.
---
Martin's first magic publication was a trick called "Color Divination" for the Sphinx in May of 1930. He was fifteen years old, and would go on to publish for a further 80 years, in a bewildering breadth of fields. The last publication in his lifetime was a magic trick that he contributed to the May 2010 issue of Word Ways. Happily, both tricks can be found together in this 80 Years of Gardner Magic article by Jerry & Karen Farrell.
He followed up with additional Sphinx items, including: "Ring Off String" (Jul 1930), "An Impromptu Trick" (Mar 1931), "Try These on Your Chewing Gum" (Nov 1931), "Impromptu Divination" (May 1933), "Parlor Mind-reading with a Deck of Cards" & "Parlor Thought Transference" (Sep 1933), "Comedy Card Spelling Routine" & "Crayons and Hat" (Feb 1934), "A Four Ace Routine That Is Different" (Mar 1934), "A Practical Coin Sleight" (Apr 1934), "Two Decks, Two People, and a Magician" (Oct 1937), "Magic With Chessmen" (Nov 1937), "Dice, Hat and Matches" (Apr 1940), "Gardner's Goofy Silks" (Dec 1940), "More Goofy Silks" (Feb 1941), "Army Guts Test" (Aug 1942), and "Give-Away Cards For Table Workers" (Nov 1942). He'd enlisted in the Navy in Sep 1942, and following his discharge in May 1946 and later move to NYC, he published "The Magic of Dr. Jaks" (Feb 1949), and "The Vanishing Cigar" (Dec 1952).
---
&nbsp
&nbsp
&nbsp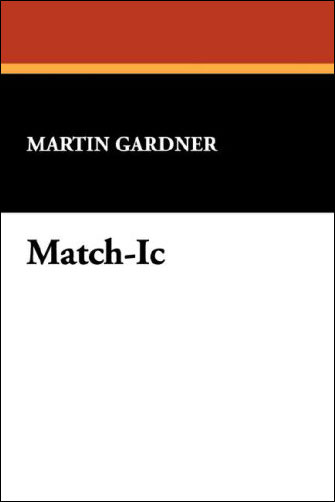 Match-ic: More than Seventy Impromptu Tricks with Matches (Ireland Magic, 1935, 29 pages) was the first of seven magic pamphlets that Martin published between 1935 and 1949. There were also numerous additional mimeographed items also sold through magic shops.
In "My Chicago Booklets" (Magicol, No 165, Nov 2007), Martin wrote of this:
"[I]t was the the second book devoted entirely to match tricks. (An earlier book on the topic, by Will Blythe, had been published in England.) "
It was finally reissued as Match Magic: More than Seventy Impromptu Tricks with Matches (Piccadilly, 1998, 48 pages), and again under its original title a decade later (Brownstone, 2007, 48 pages).
---
Here's New Magic

(1937, 20 pages) was credited to magician

Joe Berg

, but was actually ghostwritten by Martin. It features 23 effects, including the influential "Gardner's Card Speller."
---
---
&nbsp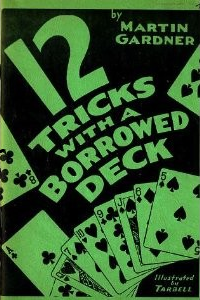 &nbsp &nbsp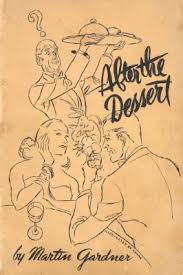 12 Tricks with a Borrowed Deck (L. L. Ireland, 1940, 24 pages, illustrated by Tarbell) was next. It includes "Double Climax Speller" and "Improved Lie Speller." Max Maven ranks its "Never-Miss Stop Trick" among the Top 10 Martin Gardner Card Tricks.
After the Dessert (Max Holden/L. L. Ireland, 1941, 28 pages, illustrated by Nelson C. Hahne) contained 30 tricks. A version with only 24 tricks, and Martin's own artwork, had circulated in 1940 in mimeographed form. The material includes magic with money, matches, cigarettes, silverware, napkins and salt shakers. In his Introduction, Martin writes:
"I have chosen only tricks which make use of objects found at any dinner table. All are performed while seated, with spectators on both left and right."

"A few of the effects are original..."
---
Favorite Mother Goose Rhymes (Sam Berland, 1941, 22 pages) was a forcing book. It was republished in higher quality in London in 1953, and that version is included in an article (pages 348–359) in the book Martin Gardner Presents discussed below.